Fighting the PCOS Fight
by Dawn
(Texas)
Hi All,

I was dx with PCOS in January of 2006, I was 35 and trying to get pregnant. I had all the classic symptoms but I had never heard of it before.

I was lucky in that I only had ovarian drilling and that worked in order to get pregnant, my next step was Clomid but I didn't need that.

I had my daughter and she is almost 3 now. However, I still suffer from other effects of PCOS, hair loss, weight issues etc.

I decided to get serious about things after being dx with high cholesterol...that was shocking to me for some reason. I always thought with my daughter I didn't need to worry about the side effects of PCOS.

I was about to go to my doctor for metformin but I heard so many bad side effects including hair loss that I was like "no way" I really can't afford to mess around with anything that might make me lose more hair!!!

So, I decided to do it naturally...this is what I have done...

I got serious about my eating/exercise. I lost 20 lbs and it took about 4 months which is a lot for only 20 but with PCOS what can you expect?

I also did my own research and put myself on a regimen of vitamins.

I take a multivitamin for metabolism/weight issues
Coenzyme 10
Vitamin D
Super Vitamin B
Saw Palmetto
Iron (I'm anemic as well)
Triple Lecithin
2 TBlS of Flaxseed
Acetyl L Carnitine

I still have about 35 more lbs to lose but at least I'm on my way!

I have normal periods now and normal cholesterol. Basically, it's going to have to be a lifestyle change for me forever but I think it's worth it to control these symptoms!

Good luck to all!

~~~~~~~~~~~~~~~

Editor's comments: Hi Dawn, congrats on losing the 20 lbs, which is a huge achievement. Give yourself a big pat on the back!

Vitamin D is super-important. Suggest you get a vitamin D test next time you see your doctor. You may need to increase your vitamin D dosage.

Flax oil is fine, but it is quite different from fish oil, even though both are considered "omega-3" oils.

Fish oil has numerous benefits. We recently published an article called "Lose Fat Weight with Fish Oil?".

There's no definite link between taking metformin and female hair loss, that I know of. There have been very few reports in the medical literature although there have been some anecdotal reports from women using metformin. Metformin has side effects, but hair loss is not something I would be concerned about.

We have a PCOS and Hair Loss webpage here.

Join in and write your own page! It's easy to do. How? Simply click here to return to PCOS Success Story.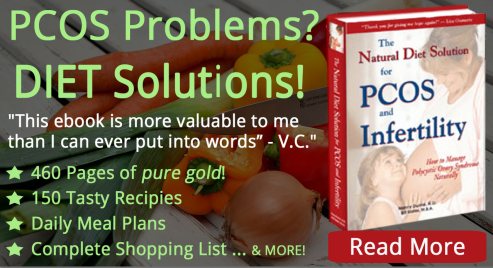 E-Books to Help You Manage PCOS