Exercise for bad knees
by Teresa
(Florida)
My question is:

Is there a way to get aerobic exercise benefits when you have a disability that prevents running, etc.? I have very bad knees, but still need to reduce body weight to take the strain off my knees. I actually worked with weights and INCREASED my weight!! My knees actually got worse.

Help!

====================

Hello Teresa – thanks for your question!

Bad knees and bad backs are probably the most common problems in women I have seen as a personal trainer – so you are not alone. I have found that using a cardio machine called an elliptical or cross trainer machine can be kinder to bad knees are there is no direct impact upon the knees themselves – the Life Fitness machines seem to be fine and also a brand called Precor.

As I am not with you in person, I am unable to assess you properly, but i have always had good feedback from bad knee clients that have trained upon the cross trainer. I always suggest that very heavy people use the cross trainer also.

Technique is SOOOOOOOOOO important for you. I would highly suggest that you find A VERY QUALIFIED trainer in a WELL ESTABLISHED gym, that specializes in rehabilitation (I have written an article about finding a good personal trainer) to make sure that your technique is perfect so that you are building up the muscles around the knees without causing them any trauma!

Your weight gain when using weights is very normal, in a previous question I mention that it may take a while to get used to the concept of how women can gain weight THEN lose body fat due to them adding lean body muscle mass, raising their basal metabolic rate to burn off a higher amount of calories. (please read previous question for more details)

I have found a website that may be of use to you, it describes some exercises that you can do to help your knee pain. www.bigkneepain.com/knee-exercises.html

Also another idea is to try circuit training. Find say 4 or 5 exercises that you can do without hurting your knees and using very light weights (or just your own bodyweight) perform the exercise for 1 minute. Have a break of 15 – 30 seconds and perform the next exercise for 1 minute and so on and so on until all 5 exercises have been completed and repeat the process… This develops into a circuit that you repeat for a full 30 – 40 minutes!

Have a great time training Teresa!

Gemma

Personal Trainer
Author of the PCOez Fitness ebook.








Join in and write your own page! It's easy to do. How? Simply click here to return to Exercise Q&A.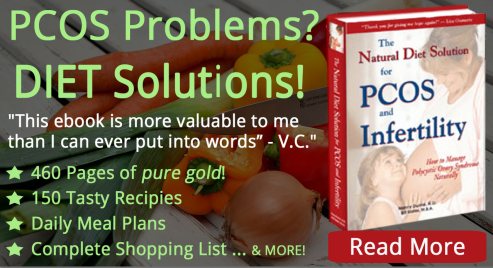 E-Books to Help You Manage PCOS