Exercise and Supplements Lead to Baby Girl
by Veronique
(Ontario, Canada)
I have struggled with PCOS since my teens. I lived with it for many years without knowing what I had. Without birth control I did not menstruate and suffer from hirsutism.

On many occasions in my early twenties I would ask my doctor why I had these symptoms and he didn't offer any suggestions or try to help me solve the problems. I was borderline depressed at this point, suffering from both hyperthyroidism then going hyperthyroid.

Finally at about 25 yrs of age someone suggested that I might have PCOS. I got tested through a different doctor and VOILA! I did some research and noted that when the time came to conceive, I might have problems.

Well, I'm 30 now and I have a beautiful baby girl named Gabrielle who's 7 months old. When the time did come to conceive I was in excellent physical shape having read that staying in shape and working out regularly and maybe even intensely can work in your favor. Also, after having read a few articles on this web site I starting taking saw palmetto and cod liver oil a few month before attempting to get pregnant.

I had a regular period for 3 months and then I became pregnant.

One mistake that I did make during pregnancy was to indulge with sugar a little too much. My baby weighed in at 9lbs 10oz. Just a little note to you women out there. Make sure to stay away from sugar or to keep it at a minimum because we might be a little more prone to gestational diabetes. I cured my near diagnosis by cutting sugar for the second half of pregnancy but I still had a beautiful, big, healthy girl.

Thanks for all the information you provide and great to hear from all the other women!

P.S.. I am now following the PCOS healthy diet as I want to try to have a second baby soon!

Join in and write your own page! It's easy to do. How? Simply click here to return to PCOS Success Story.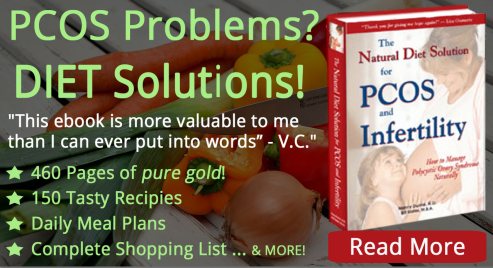 E-Books to Help You Manage PCOS