Encouraged by the PCOS Health News newsletter
by Holli B.
(Mobile , Alabama )
Good morning - I am writing this memo to express my sincere thanks for all of the information that the PCOS Health News newsletter shares monthly.

I am always encouraged by the testimonials and look forward to reading them monthly.

This is an unfortunate diagnosis, but it is important to remember that everyone has their lot to bear in life.

We can choose to approach the condition with a negative attitude, or we can choose to take advantage of each resource and make the best of the situation. I choose the latter.

With a God's help, we can all find comfort in developing strategies and conquer this condition one day at a time. That is the only way we can maintain peace of mind.

To the editors/ authors of this newsletter - continue to allow God to use you to bring information and hope to those of us who struggle with Pros.

Holli

~~~~~~~~~

Editor's comments: Thanks, Holli. We have been publishing the newsletter for nearly 8 years. Hard to believe! During that time, we have written hundreds of articles designed to help you and others gain some degree of control over PCOS.

One of the unusual features of the newsletter is that we always have at least one article that shares the latest research on polycystic ovary syndrome, infertility, metabolic syndrome, thyroid disorders, weight loss issues, hair loss, hirsutism, acne or any other topic that we discover that will help you in some way.

For example, let's suppose you are taking birth control pills to control PCOS. Well, we discovered a study showing that a nutritional supplement taken with birth control pills makes birth control pills more effective in treating polycystic ovarian syndrome symptoms than the pill all by itself. This supplement has been shown in other studies to improve ovulation and conception, and much more.

And…the newsletter is free!

Join in and write your own page! It's easy to do. How? Simply click here to return to PCOS Success Story.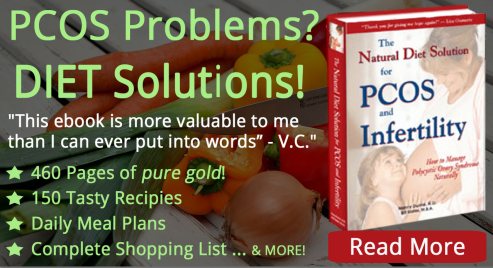 E-Books to Help You Manage PCOS