Don't Let PCOS Defeat You
by Sardhis
Hi everyone, my name is Sardhis. I am 26 years old.

I was diagnosed with PCOS at the age of 20.

I found my periods to always be irregular as an adolescent, but I didn't pay much attention to it until my husband and I were unable to conceive.

I started losing weight and got placed on Clomid.

I am happy to say that our son Luis Angel is now 4 years old.

DO NOT GIVE UP. I know how it feels to buy pregnancy test after pregnancy test and then feel devastated with their negative results.

Exercise, eat right and you will feel a great difference.

Good luck to all of you from the heart!!

~~~~~~~~~~~~~~~

Editor's comments: Even a little bit of weight loss, as little as 5%, can often result in ovulation, even without resorting to pharmaceuticals.

PCOS is tough to beat, but it can be done! A high-quality diet consisting of unrefined carbs, protein, proper fats and lots of veggies can accomplish more than you think. Remember…you ARE what you eat.

And avoid soft drinks. They are poison. True! The sugar, high fructose corn syrup and chemical additives are a perfect witch's brew that may taste good but is devastating to your health. And they make you fat, too. Don't be fooled by the artificial sweeteners such as aspartame. Tests on lab animals shows that chronic aspartame exposure increases the risk of cancer.

Exercise is the perfect partner to good nutrition. Not only do you burn off fat, you also improve insulin function, which helps you to rebalance all your other hormones.

Join in and write your own page! It's easy to do. How? Simply click here to return to PCOS Success Story.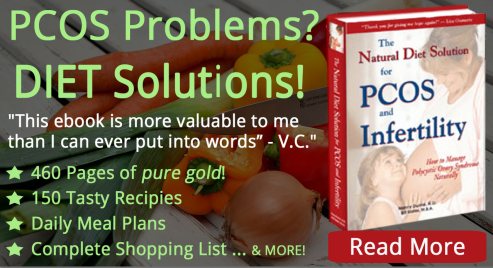 E-Books to Help You Manage PCOS