Diet, Exercise and Diane-35 - Success!!
by Casey Trew
(Sydney, NSW, Australia)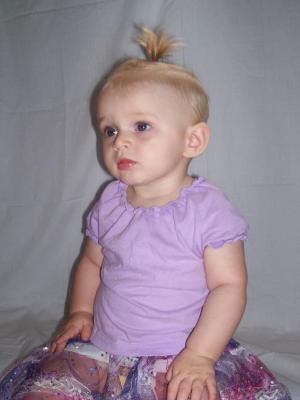 8 months old
After suffering from horrible periods my whole life, finally, at the age of 25 I was diagnosed with PCOS.

My gyno placed me on Diane-35 and informed me that weight loss would also help. I started walking every morning as I didn't have time to get to the gym. I wasn't losing a great deal of weight but I was feeling much healthier for doing so.

After 4 months on Diane-35, my partner and I decided that we would like to start trying for a family. As we were told that this might end up being a lengthy and possibly expensive process, we put off getting married thinking that a family was a far more important expense than a wedding.

We went to see my gyno who told me that the first step was to stop taking Diane-35. He told me that it would take about 4 months to come out of my system and that we would try some hormone treatments at the end of that period. He told us to have fun trying to conceive in the meantime, but the chances we not the best.

I wasn't surprised when I got my period the following month. About 3 weeks after that period I started feeling very tired and my breasts hurt. I just thought it was effects from coming off the Diane-35. When I was a week late for my next period, I was still thinking that it's just more side effects but a friend convinced me to buy a pregnancy test. I was hesitant at taking the test as I'd been disappointed so many times before.

I bought a test on my way home from work that night and took it as soon as I got home, thinking I should just get it over and done with so I wouldn't start getting my hopes up. The test came back positive. I took the other test in the 2-pack. Positive again.

Half not believing it, half not wanting to be crushed if it was wrong, I bought another test in the morning. A different brand this time. Third times the charm....positive again. There are no words for the emotion I was feeling at that point.

Apart from the usual ailments, I had a very smooth pregnancy and in June 2007 (11 months after ceasing the Diane-35) I gave birth to a beautiful healthy girl that we named Hunter Jordan. She is our little miracle.

As we are unsure if we will have the same luck again, we have started trying again straight away for the next addition to our family. If we don't have any luck the old fashion way, I will definitely be going back on Diane-35 again.