Diet and Exercise Worked for My PCOS
by Sammybunny
(Cartersville, GA)
I am nineteen years old and was diagnosed with PCOS when I was eighteen. I was 145 pounds (not extremely overweight but overweight nonetheless) and hadn't had a period in six months. I had quit using birth control about six months earlier and naturally did not have a period for the six months.

At my college, I saw a doctor came who was a specialist in naturally correcting women's cycles. I was keenly interested in her methods for aiding irregular cycles.

She took me off dairy except for goat cheese (I also drink soy milk occasionally) and no refined sugars, no starches, and I also used your book as a guide for my diet.

She also put me on natural progesterone treatment during certain phases of my cycle (this type of progesterone is exactly what my body makes).

I am pleased to say that with this change and some dermatological help my acne is now cleared up with minimal scarring, I have had a period every month and I am down to 113 pounds, where I am trying to stay between 110 and 120 pounds.

This has been a miracle for me and my health! Diet and exercise and lots of discipline really, really do work for this!

Join in and write your own page! It's easy to do. How? Simply click here to return to PCOS Success Story.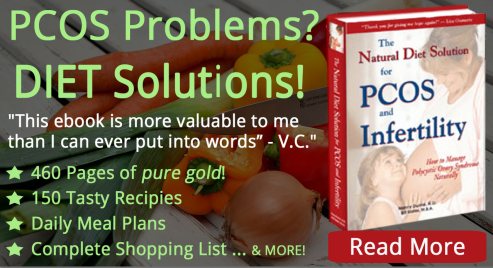 E-Books to Help You Manage PCOS