Diet and exercise helped me with PCOS
by Jana
I got my first period when I was 14. It didn't come back for probably about 2 years but I had read online that that was normal, so I wasn't worried. After that I'd get it maybe twice or three times a year. I knew something wasn't quite right.

I Googled my symptoms which included acne, a few stray dark hairs on my chin, and of course my completely irregular periods, and decided I had PCOS.

I mentioned it to my doctor when I was 20 and she said she doubted it because I'm thin. Ha.

I was diagnosed a few months later. She kept pushing BCP but I said no.

That year I started exercising regularly and eating better because I was going to be in a wedding and wanted to tone up a bit.

A few months after being healthier, I got my period after it had been MIA for 9 months, one of the longest stretches I have ever gone without it.

Now that I eat better and work out I get it every month, occasionally it skips one month. I'm 21 and not ready to have a baby yet, but I'm hopeful when the time is right, it will happen.

Join in and write your own page! It's easy to do. How? Simply click here to return to PCOS Success Story.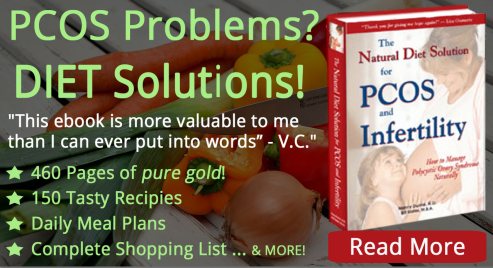 E-Books to Help You Manage PCOS