Diagnosed with PCOS but I Have My Dream
by Fozieh
(Dubai)
Hi guys,

I am 22 years old from Iran. A week ago, I was diagnosed with PCOS. My doctor suggested me to go through net and find out more about PCOS related problems.

I read many articles about this. I became very depressed when i understood that i can't get pregnant.

The only thing that I did was crying.

But now, I feel much better. Your stories made me alive again. I just want to fly, I am so happy.

Thank you for your helpful information and support. Thanks a lot. I believe that the miracle will happen soon. I will come back with new story and my little angel!!

################################

Editor's comments:

Hi Fozieh, there is much useful information on our website. Try to read and understand the information on all the web pages.

You can also purchase our PCOS diet ebook, which you can download to your computer. This ebook will help you to understand what polycystic ovary syndrome is and what you can do about it. It also has some essential diet recommendations, although you may not be able to do all the recommended things because some of the recommended foods are not available in Dubai.


Join in and write your own page! It's easy to do. How? Simply click here to return to PCOS Success Story.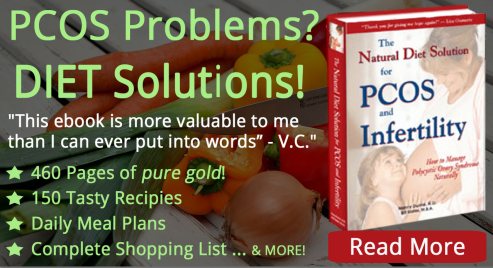 E-Books to Help You Manage PCOS