Diagnosed with PCOS and have pregnancy success!
by Amanda
(St. Paul, MN )
I had been on the pill since I was 17 years old. When I was 29, my husband and I started to try for a baby, so I ditched the pill.

To my surprise, my period became very irregular (and it has never been irregular!). Some months I wouldn't get it at all and would go 2 or 3 months with no period.

I also had gained some weight and could not lose it even with exercise.

I went to the doctor and had numerous tests done. The first doctor said she saw nothing wrong with me and gave me no explanation for my irregular periods.

I switched to a new doctor and she told me she thought I might have PCOS. She put me on a low carb, low sugar diet (no pop, cut out desserts, cut down on carbs).

I lost about 20 lbs. in three months and my periods became regular and I began ovulating.

My second month of ovulating, I became pregnant! I am currently six weeks pregnant after 18 months of trying to conceive.

My doctor is keeping a close eye on my progesterone and hormone levels to make sure they are within normal range for a healthy pregnancy. Also, I go in next week for an early viability ultrasound.

I know PCOS is a very frustrating and depressing syndrome, but I am proof that you can get pregnant with hard work and determination!

Join in and write your own page! It's easy to do. How? Simply click here to return to PCOS Success Story.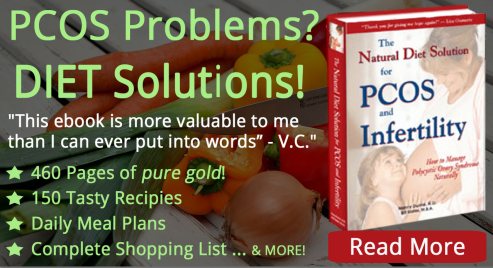 E-Books to Help You Manage PCOS