Diagnosed Today with PCOS
by Charlotte Herman
(London)
Hi all, My name is Charlotte.

I'm 27 years old. In March this year after trying for a baby for only 3 weeks I was pregnant!!

It was the happiest day of my life, at my 12 week dating scan I was told that the baby had passed at about 8 weeks. Myself and my partner were distraught.

The next day I had a D&C, since then I have been trying desperately to conceive again, I saw a specialist who said it was just one of those things and how it happens to 1 in 4 women in their first pregnancy, I have since had irregular and severe bleeds and the past month have bleed on and off throughout with no luck of conception.

Last week saw a specialist and my local GP, I had my bloods taken where everything including my hormone levels came back as normal.

I then went for a scan today where I have found out both my Ovaries are Polycystic.

I walked out of there devastated once again I have spent the whole day crying,

This website has given me slight hope.

However I am desperate for a baby I do not yet know how severe a case I have or if that even makes a difference.

I have no symptoms over than the bleeding of PCOS, I am of normal weight have never had acne etc.....

Is there still hope for me???

Do you think that is why I previously miscarried???

I would love to hear any similar stories and would be so grateful for any advice.

Thank you.

~~~~~~~~~~~~~~~~~~~~~

Editor's comments: Hi Charlottee, first of all, there IS hope. Always. Thousands of other women have been through what you are going through and have been able to start families.

What you need to do is educate yourself about PCOS and find out the different things you can do to minimize its effects.

There are dozens of reasons why you could have miscarried.

You might find this web page about miscarriage to be informative: www.ovarian-cysts-pcos.com/miscarriage.html

You may have PCOS, or you might not. You can have polycystic ovaries without having PCOS. However, nearly all women with PCOS will have polycystic ovaries.

Either way, you can reduce ovarian cysts by improving your diet. Increased exercise also is helpful. Diet and lifestyle improvements have been proven to help you balance your hormones.











Join in and write your own page! It's easy to do. How? Simply click here to return to PCOS Success Story.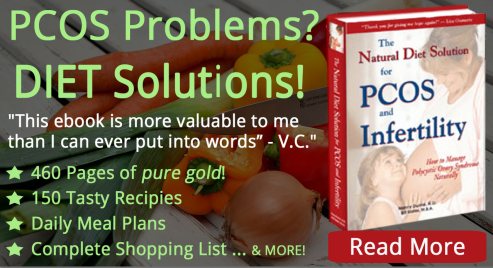 E-Books to Help You Manage PCOS