Confused, Regrets
I was diagnosed last month when i just wanted to check that everything was in order because my husband and i was trying to conceive. I only went off the pill in Nov 07 and was hoping that by now it would have happened. I've never had irregular periods or anything like that.

The 4 cysts are on one ovary. The doctor doesn't seem too worried as this is the first time and she says i don't have any of the symptoms of PCOS. My husband has been very supportive.

i am based in South Africa and wondered if anyone can recommend a doctor? I want a success story.

11 years ago i fell pregnant but being 16 I did the obvious and now regret it more than anything. The mistakes that i have made in my life seems to have caught up with me.

This site is wonderful and helps me speak to woman in the same boat as me.

#######

Editor's Note:

1) Birth control pills put your ovaries to "sleep"; since you were consuming hormones, you ovaries didn't have to bother producing them. It can take a number of months for your ovaries to "wake up".

2) The presence of ovarian cysts suggests that perhaps your diet is not the best.

A recent study from the Institute of Research Pharmacology in Italy analyzed the diet over a ten-year span of 225 women with benign ovarian cysts and 450 women who did not have ovarian cysts.

The researchers discovered that the type of food eaten influenced the development of cysts. For example, they said that women who consumed the most beef and cheese developed the most ovarian cysts. In contrast, consumption of green vegetables provided a strong protective effect. This study makes it clear that what you eat will influence whether or not you develop ovarian cysts.

We have written an in-depth diet book for women with PCOS. But the dietary recommendations in the book are the same for ovarian cysts. If you have this problem, consider purchasing The Natural Diet Solution to PCOS and Infertility book.

3) Life is too short to have regrets. Forget the past and focus on the present moment. You can't change the past. The future is not here yet. You can only influence the present. Think about what you can do TODAY to improve your health.


Join in and write your own page! It's easy to do. How? Simply click here to return to PCOS Success Story.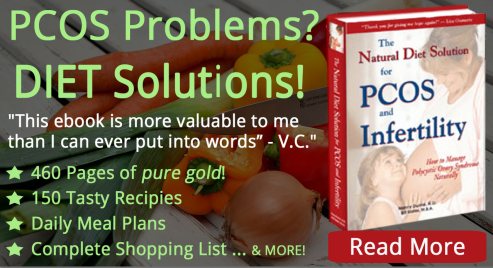 E-Books to Help You Manage PCOS