Change! with PCOS Diet
by Miriam
(Waupaca, WI, USA)
I have been following the PCOS diet for 6 weeks and I will continue to follow it!

I have lost 20 pounds in 6 weeks and I felt my ovary ovulate for the first time EVER!

I also was able to detect an LH surge for the first time.

I feel healthier, more fit and I love hearing the compliments from my husband!

This is a lifestyle for me now.

I run 2-5 miles a day and am looking forward to summer activities!

The only problem is now I have to go buy SMALLER clothes! Yippee!

Thank you for the time and effort put into this compilation.

~~~~~~~~~~~~~~~~~~

Editor's comments: Hooray for you, Miriam!! We're thrilled that you're getting positive results!

You have found the secret key. The key is: "This is a lifestyle for me now." That is the key to successfully managing PCOS and getting your life back.

Our ebook is not a fad diet. It is really a lifestyle change that you continue for the rest of your life, namely: an exceptionally healthy diet, plenty of exercise, avoidance of chronic stress, developing a positive attitude, and improving your physical and emotional environment.

The publication Miriam is referring to is The Natural Diet Solution for PCOS and Infertility. This publication covers more than just a diet designed to alleviate polycystic ovary syndrome.


Join in and write your own page! It's easy to do. How? Simply click here to return to PCOS Success Story.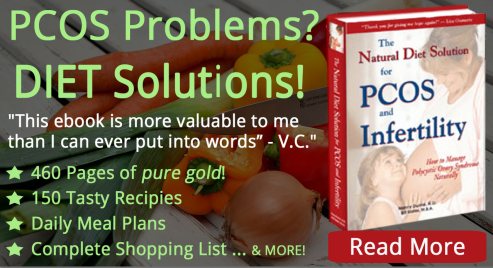 E-Books to Help You Manage PCOS