Awaiting Success over PCOS
by Anushka
(India)
Hi,

I have been diagnosed with PCOS 1 and a half years ago.

I was taking tablets prescribed by my general physician. It was like, I could ovulate only if I take those tablets. I was continuing it for 6 months.

Then again, I had my periods for the next consecutive 2 months without any tablets. I was so happy that the cysts had been gone!

But again my periods became irregular.

In turn, I tried siddha treatment. And I am not satisfied with that.

Now again I consulted with a gynecologist. She prescribed me Metformin.

Am much worried about my future life. Will this be alright??? Please anyone reply me. Awaiting for your valuable responses.

~~~~~~~~~~~~~~~~~~

Editor's comments: PCOS is something you probably acquired while you were still in your mother's womb. So you have a genetic predisposition toward a certain hormonal profile.

So it is something you need to deal with for the rest of your life, even beyond your reproductive years.

One way to deal with polycystic ovary syndrome is to take medications that alter your hormones, or help you to better utilize insulin. Metformin is for an insulin disorder called insulin resistance. If you do not have insulin resistance, metformin will not help you. Metformin also has some side effects.

The other way to deal with PCOS is to change your lifestyle and diet. Doing so changes your "epigenome", which influences how your genes behave. By changing the behavior of your genes, you change the behavior of the cells in your body.

You can get a few tips on diet and lifestyle here.

Join in and write your own page! It's easy to do. How? Simply click here to return to PCOS Success Story.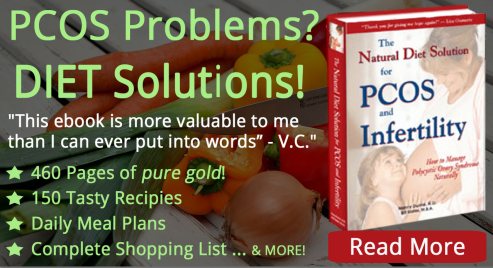 E-Books to Help You Manage PCOS