More PCOS Success Stories
Group 5
This page is intended for more of the stories of women with PCOS (polycystic ovarian syndrome) who have improved their condition by using natural health-building methods. We hope that you will be inspired by these stories and that you will have a renewed sense of hope and commitment to improving your health.

(N) = Emphasis on natural methods.
(D) = Emphasis on drugs.
(S) = Starting on the road to success.
For additional groups of stories, go to
---
Jamie
Hello everyone, my name is Jamie, I am 25 years old and I was diagnosed with PCOS "officially" in 2003. It all started 1997 when I was in college and I went to the health center for my annual exam and to get on birth control. My family physician had suggested that my cramps would be less debilitating and my periods more regular if I was on birth control. After my exam the gynecologist asked me if I had ever heard of PCOS and whether I had been diagnosed, at which time I had not. She suggested that I speak with my physician about PCOS and determine whether I was a possible candidate for treatment. When I returned home on break my physician shrugged me off and told me I was over exaggerating. At this time I was already showing significant signs of PCOS.
For the next several years I didn't think much of it until a pharmacist at a local grocery store I worked at asked me again if I had PCOS. She then spoke about a conference she had attended and a doctor in our area that had dedicated his practice to PCOS patients. That was when I was officially diagnosed and began Metformin. Things were going great, I was getting married and I finally knew what was wrong with me, except for one major snag. I cannot swallow pills. I know that I am an adult. I know that it is completely psychological, but it doesn't seem to matter what I try, I can't swallow pills. I finally gave up spending money on Metformin and have been at a loss until now. I thought that I was just going to live my life without children and being a diabetic.
All of you ladies have given me a new sense of hope. I feel that I have options. I don't have to live out my life on medication. I cannot wait to get started working with a naturopathic doctor and starting a new chapter in my life. I hope and pray for everyone who has to deal with this condition and that they can succeed in maintaining a happy and healthy lifestyle. Good luck to you all and I will continue to read your inspiring stories with hopes of having a success story of my own, soon!
With much admiration,
- Jamie
---
Heather
I was diagnosed at 26 and immediately told I needed surgery to remove a cyst on my ovary. For years I'd been bulimic and just didn't give a second thought to the idea of relationships and pregnancy so that was never going to be a factor in my recovery. Now I'm thirty and I've managed to maintain reasonably good health through eating sensibly and exercise.
I still don't go out of my way to look for relationships yet still whenever I see a doctor they seem always to refer to my PCOS in terms of fertility and 'when' I'm going to start a family. It's difficult enough having the condition but I can't always find support from like-minded women who aren't thinking about fertility and want instead to simply control their PCOS.
I've had a few episodes of the bulimia back again, quite recently in fact but thankfully my body seems to want to heal itself now and I soon find my way back to eating healthily.
I'd love to hear from anyone who, like me doesn't have a partner or wishes to start a family.
- Heather
Editor's Note: Bulimia is a serious but under-recognized problem with PCOS women, which appears to be due in part to a hormonal dysfunction of the appetite-regulation system of the body. We discuss the issue of bulimia and the appetite-regulating system in our book.
We hear from a significant number of women who are less concerned about having a baby but are more concerned with having a good primary relationship and simply getting healthier. If becoming pregnant is not a desire you have, don't let others pressure you into thinking it is something you should do.
Regardless of whether you have or want a family, it's very important to control PCOS because of your increased long-term risk of diabetes and heart disease.
---
Lisa
I do not have a success story yet, but hope to soon. I was diagnosed with PCOS in 2/2004, after blood tests (LH and FSH ratio), and other testing that was part of the infertility workup. I was 38 years old; I had irregular periods as a teen and in my 20's, but have been regular since age 30. I have been married 17 years and have been trying to conceive since 9/03.
I went on low carb - Atkins type diet, lost 30 pounds (now weigh 122), and starting walking 2miles/day. I had a spontaneous pregnancy in 7/04, ended in a miscarriage in early 9/04 with a D&C. I fell pregnant again in 1/05, this was after taking Clomid 100mg; very sadly this pregnancy too ended in a miscarriage in 2/05. I started taking metformin XR 500mg 3x day in 2/05. I had been on the regular metformin in 3/04 for 6 weeks, but had to stop it due to extreme nausea/lack of appetite. My husband is in the Navy. My reproductive endocrinologist is at a Naval Hospital, and has mentioned that I may be a candidate for IVF.
My husband does not want to do IVF. So, hopefully, my diet/exercise regime, as well as the metformin/ Clomid will work. (I have done 3 rounds of Clomid) I have waited to become a mother until we were financially stable, my husband to finish medical school, and to be homeowners. I want a baby more than anything and now wish that I had not waited so long. Please say a prayer for me and wish me luck as I continue on the infertility roller coaster.
- Lisa
---
Kimberly
Hi everybody,
My name is Kimberley and I don't have a success story as of yet but I'm working on that. I was diagnosed with PCOS at the age of 15. I'm now 18 years of age. I didn't really know what it was back then but I'm now becoming more aware of PCOS. I have access facial hair, irregular menstrual cycles and I'm overweight.
I was put on an oral contraceptives to help with my PCOS symptoms but I found that it didn't help me or my symptoms so I have recently stopped taking it. As I now have a long term relationship with my fiancé and we have talked about pregnancy.
Your stories have given me hope that one day my dream of becoming a mother may possibly come true. I'm going to the doctor tomorrow to ask if I may be able to take Metformin to help myself deal with PCOS. Thanx for all your success stories they have given me hope that one day I may live a normal life. Love, Kimberley.
- Kimberly
---
Anonymous
I have been blessed with my son who will be turning seven soon. I never knew what PCOS was until after my son was born and my husband and I tried to have another child. (It took us about 3 years to conceive my son.) After going to my GYN and asking for a full check-up, I was told that I have PCOS. I've been to two GYN doctors already. The first one put me on Clomid 50,then 100, then 150. But didn't watch me to make sure that it was working (a sonogram should be done). The 2nd doctor did monitor me closer but recommended that I go through a fertility specialist. So I did. My husband was checked out completely and even went for the vas. surgery. I also was checked out and had the laparoscopy done. These were done before we were able to be treated. Since then, my husband was on different dosages of creams (on his arms), and I've tried the clomid (again), as well as injections in my arms and legs for fertility. As of now, 5 years of trying, and about 55 pounds gained…nothing has happened. I did have 4 miscarriages early in the pregnancy.
I still desperately want more children, however, I decided that I must get myself back together now. I need to lose the weight gained and not let this consume my life. I'm hoping that your book will shed some light onto ways of losing this weight that feels like it doesn't want to go as well as if there are any other, more natural ways to try to have a child. I just don't think I can go through giving myself injections again. It's very draining…emotionally. I do wish everyone good luck and success. It's frustrating when the people who want a child are unable and those that don't want one conceive easily.
- Anonymous
---
Sarah
I don't have a success story yet but hopefully I will have one soon. I first felt the symptoms of PCOS at age 13 and the symptoms continued to get worse until I was officially diagnosed with PCOS at age 18, a few months after I got married. I knew from an early age that I would have a difficult time getting pregnant, so my husband and I wasted no time in trying to get pregnant. We tried effortlessly for 1 year, then we tried 5 months of Clomid, it didn't work. My doctor even tried increasing the dose to the highest possible. Nothing worked. Before my doctor gave up on me, he told me that I was only 19 and that I have lots of time and I should lose some weight but before pushing me out the door, he prescribed Glucophage. We were devastated, I was so depressed.
I continued being depressed for about 8 months before I woke up one day and decided it was time to change my life because what I wanted more than anything was to be a mom. So almost 5 months ago I started a diet that didn't restrict what I ate just HOW MUCH I ate. It hasn't been quite 5 months yet but I have lost 38lbs. However my periods just refused to return despite the significant weight lose. I did some research on my own and discovered some very encouraging information.
I started taking Herbal supplements and progesterone cream. Within the first month of using the supplements and the Progesterone cream I had a period on my own, A NORMAL PERIOD! I was so excited! This is my second month, I really do have high hopes. I now take chasteberry, a multivitimin, 1000mg of Glucophage, Black Cohosh, and I use 1/2 tsp. of natural progesterone cream twice daily. I really think I found my own cure. Hopefully I will be able to write again soon with my future due date, wish me luck, and good luck to everyone with PCOS.
- Sarah
---
Daneena
When I turned, 18 I went to a gynecologist for the first time, particularly to address the intense pain I felt during my infrequent cycles (about every 5 months or so). I was put on birth control with no results.
I decided to discuss it with my primary physician (not before because I wanted to see a female). He sent me to get some testing done and we concluded that I have PCOS. I've always had serious weight problems and I also had hormonal imbalances. Our treatment plan was Glucophage (metformin) twice daily and to lower my intake of all carbs and sugars.
In June of 2004 I weighed in at 320lbs. Through the combined efforts of medicine, modified diet, and exercise, I've lost 50 lbs. as of April 2005. My cycles are still not on schedule but have gone from every 5 months to monthly or bi-monthly.
I was pretty devastated to hear that I may not be able to conceive because of the PCOS, but I'm much more confident of my future now that I've had this much success.
God Bless and Good Luck,
- Daneena
---
Melia
Hi all, my name is melia. I recently have found out that i was diagnosed with pcos back in 2001 at the age of 19,and was not informed of it.
I have always known that something was not right because I have only had one period on my own in about 4 years. I stopped having periods back when i was about 15 and like almost all of you I was put on BC and have taken it off and on.
I have been married for a little over 5 years now and me and my husband are really wanting to start our own family. So i went and seen a new gyn and they want me to take my bbt for 3 months before seeing a fertility specialist..
So here is what i think that i'm going to do while I'm waiting to see the specialist. I am going to start a diet and also take the fertility blend and see if that helps any.
I was also wanting to say what a wonderful site this is it truly is wonderful and I'm so glad that i found it.
If any one has any suggestions please let me know I can use all of the advice i can get. Thank you.
- Melia
---
Kes
Hi, I'm 24 yrs old. I was diagnosed with PCOS on March 2005. My gyno gave me Provera for a week and then Diane-35 for 3 months. I'm taking the Diane-35 right now. My periods have been regular after starting the medication but I do get side-effects like dizziness, headache, breast tenderness and mood swings. I am not overweight, however, I have high cholesterol. I have been trying to improve my diet and exercise regularly (not so successfully though).
I am scared about infertility in future once I get married and plan to start a family. But I'm really keeping my fingers crossed that I will have good news and success stories to share with you all in future. I was very depressed about being diagnosed with PCOS, but reading all your stories have given me hope. I'd really like to thank you all for sharing.
- Kes
---
Amy
My name is Amy. I'm 26yrs old. As of right now, I don't have a success story as far as a baby is concerned, however I do have a success story about my weight loss. I was diagnosed with PCOS when I was 14 yrs old. My mom took me to a Endocrinologist for irregular periods, my family physician thought I might have a Thyroid condition. Turns out I don't, however I have PCOS. Irregular periods, weight gain, acne, hair loss, excessive hair growth on my arms, legs and face. I was placed on birth control pills to regulate my cycles.
When I was 23 yrs old I was married and with the help of clomid 50mg, first try I conceived, however sadly at 4 weeks I miscarried. The doctors say it was probably due to PCOS and my low progesterone level. My husband and I at the time divorced. Nothing to due with the miscarriage. I lost 30lbs with diet and exercise.
Remarried to the love of my life, my very understanding and wonderful spouse, Joshua. Without trying, we conceived but ended again in miscarriage. I was 5 1/2 weeks pregnant. I'm now in school and we are going to start trying again at the end of this year. When I'm done with school. I am still on my diet and exercise, on prenatal vitamins, and 500mg of metformin. I'm praying that we will conceive and have a healthy baby. My faith in God keeps me going...Thanks to all of your success stories. I'm feeling more optimistic. Good luck to all of you....God Bless....
- Amy
Editor's Note: Anyone with recurrent miscarriage could benefit by reviewing our Miscarriage web page.
---
Brandalyn
I am so glad that there is a web-site out there that I can actually relate to. I am 30 years old and have just been diagnosed with PCOS after a year of research. My story begins like this: My husband and I decided to have a child two years after we where married. So I decided to take myself of the pill (which regulated my periods so at the time I had no concern) I started skipping periods and I went from a size 3 to a size 12 with in a period of 3 years. But even though I had gained weight I never gave it much thought.
I just thought that college life and studying and eating while doing home work had alot to do with the extra weight. My main concern was when I could not get conceive. We tried for a year and half when I decided that enough was enough and went to my OBYGN. The first thing she said was that my body was under alot of stress (new marriage, step-children and going to court for custody for them, teaching, and my college classes) and to give it a few more months using a technique of having intercourse every other day after my period.
Lucky for me this technique actually worked for us and I became pregnant with our daughter Baylee. My pregnancy with Baylee was not perfect -- it was very scary. I lost 20 pounds in a month during my second trimester and my doctor couldn't find out what was wrong with me. I wasn't real big when I got pregnant so she was concerned that I was not eating right or taking care of myself.
But this was not true I was eating correctly and I had actually cut out a lot of foods that I knew where not good for the baby such as pop. I was eating lots of fruit, juice, and protein snacks like (peanut butter and apples). I begin to sleep all the time and my eyes would blur. They did many tests on me to see if I was diabetic or even carrying twins. Ever test they did on me came out negative. I was so scared I was going to lose her but with God's will she was a week late and healthy as a horse. The nutritionist I visited said with the symptoms I was having she thought that I might be hypoglycemic.
After Baylee I was little again. I weighed less after having her than I did when I got pregnant with her. But within 6 months I had probably gained 40 pounds. I started getting hair on my face and this really concerned me. I was always pretty and skinny and now I was fat and ugly.
I visited my family doctor who said get more exercise and gave me some type of cream for the facial hair (which doesn't work) I started working on myself and almost starving myself. I'm not a big eater anyway and so this made me very angry and depressed. I would lose a little here and there but not much. I decided again to visit another doctor my mother-in-law thought was just wonderful and again the results for everything he tested me for was negative.
I was starting to give up!!! I thought maybe my depression, hair on my face and neck, my hair on the top of my head thinning (and it's always been thick), and the weight gain was all due to stress. I had given up and thought this is just the way God made me when I became pregnant again with my second child by skipping a couple of my birth control pills. It was quite a shock when it had taken us so long to conceive Baylee.
My 2nd pregnancy was totally different. I was three months along before I knew that I was pregnant (because my period was three months late and that was only normal when I was not on the pill). I was never sick and gained weight quickly. I was bigger than I had ever been at 205 pounds when I gave birth to our son Adam.
After giving birth I was still big. I weighed 188. So I begin to kick box 4 times a week and watched what I ate. I went back to my OBGYN three months later and I had gained 30 pounds. My doctor said that this was not normal and again did some blood work. Again negative. Told me to diet and exercise more. A year later I started weight watchers and walking everyday.
I have been on weight watchers for a year now and have only lost 25 pounds. I still have about 60 pounds to lose to be in my idea weight category. I finally begin doing research on my own with my symptoms when I found a site that had a test for PCOS. I took the test and discovered that I had almost all the symptoms.
Finally I got up the courage to visit my family doctor to get a referral to visit an endocrinologist. (I had already researched and found the doctor I wanted to visits name, number and address in hand). I walked in his office and told him what I thought I had and a list of my symptoms. My doctor was very supportive he wrote what I told him in my file and called in my referral that very day to the endocrinologist that I had chosen.
I recently visited and had test done and sure enough my guess was right. I have PCOS. I am taking Metformin 500mg morning and night at meal time. I just started the medicine about a week ago so my walk with PCOS is just starting but I feel that this is part of my success story.
I now know that I'm not crazy and that I do have something wrong with me. To me when my doctor went over the results I was relieved that they were not negative. I was glad that my search for an answer was on its way. I think I even smiled when she told me that I had PCOS. I'm sure she thought that I was a little odd but to me I was glad that my search was over. I do hope that the medicine will improve my symptoms and give me and that way I will have another success story to share with you.
- Brandalyn
---
Michele
I was finally diagnosed with PCOS in 1999, without being able to get pregnant for a year. Then that doctor wanted to perform surgery on me by drilling holes in my ovaries or she said I might never be able to get pregnant. I thought I might get a 2nd opinion.
I found a great doctor who put me on glucophage and low sugar diet. Within 3 months I lost weight and was finally pregnant! I now have two beautiful children. There are doctors out there that are more knowledgeable in PCOS - don't ever give up hope. There is help out there for us. I also think the birth control pills contributed to all of my problems somehow.
- Michele
---
Nykky
In my heart and soul I know I am a success story even though my husband and I are awaiting the joyous news of being parents one day. I am 30 years of age, happily married and excited about life. I was diagnosed with PCOS at the age of 19. At that point in my life I was not trying to get pregnant and did not do any sort of research on the topic. I relied on the information provided to me by my ob/gyn.
Like many of the other women with PCOS, I have excessive hair growth, acne, suffer from many months of missed periods, insulin resistant, etc. I have experienced most of those symptoms from a very young age. Two years after being married my hubby and I tried to conceive naturally, that did not work so my doctor introduced me to Clomid for 6 months. That did not work either.
Today, 17 May 05 is the start of something new and exciting for me. I've started on 850mg of Metformin/2x daily, a new low carb diet, and an exercise plan. It is my faith in my Lord and Savior Jesus Christ that has brought me this far and I pray to continue on in His Name. I am so happy that I found this site. To all the mothers and mother's to be BEST WISHES in your endeavors and don't give up hope. Thank your for sharing your stories.
- Nykky
---
Brittany
HI, my name is Brittany. I just turned 20 and found out two days ago that I have ten cysts on each ovary. After doing some research, everything leads back to PCOS.
When I asked my doctor about this all she said was that she could give me some literature to read about it. I entered college last fall weighing 158 and by November I had shot up to 185. I played every sport in high school and was constantly complimented on my athletic and defined figure. My heaviest (in February this year) has been around 195.
I had never had an eating disorder but after entering college I actually ate so many sugary carbs AFTER a regular lunch or supper(between 13-15 large cookies and a huge bowl of ice cream, for example) that I would get sick and throw up. Within in the last two months I have forced myself to eat healthy (exercise has never been a problem for me) and now my weight fluctuates 10-20 pounds a week. I am also CONSTANTLY bloated like crazy. My stomach swells up and I look like I am in my late stages of pregnancy! Does anyone have any clue what is going on with me?
- Brittany
Editor's Note: If you greatly reduced intake of refined carbohydrates, your bloating should substantially diminish. It's also possible that you have an overgrowth of pathogenic bacteria or yeast that are feasting on the refined carbohydrates you are consuming. Gut infection can also cause bloating. Our healthy pcos diet e-book goes into great detail about which carbohydrates you should eat and which you should not eat. In this e-book, we also explain why binge eating occurs.
---
Mrs. Abrahams
Hi there, I'm a 23 year old South African. Was diagnosed with pcos in sep 2004, today I've been married for 1 year 8 months. We've been trying for a baby since mar 04, I went to a very good recommended doc who know everything about pcos, she put me immediately on metformin 500mg twice a day and to regulate my periods put me on yasmine, it's like a contraceptive to regulate my periods which it did I went on a diet and with some success lost a few kilos. I thank god in feb 05 I went for more results to see if the tablets was working…it did My doc put me off metformin and yasmine as I was trying to fall pregnant.
In apr 05 I got my periods again much to my dislike. I was so upset I thought what did I ever do to deserve this. I want a baby so much that it hurts. I went back to my doc and she put me on clomid from day 5-7 of my periods. Today is the 19May I have not yet received my periods don't know what to think but I'm going to get my hopes up. My doc said I must wait until the end of the month then see, hope it is good news, keep your fingers crossed.
- Mrs. Abrahams
Editor's Note: You don't mention whether you eat a healthy diet or exercise on a regular basis. A simple improvement in the quality of your diet and regular exercise will do more to help you than taking medications alone.
---
Ivette
I suffered for years with infertility, weight gain, hair loss, hirsutism, depression and no energy what so ever. I didn't know what was wrong with me. After a couple of years of trying to conceive and no results, my husband and I finally went to an infertility specialist. She's the one who told me I have pcos and that I was insulin resistant. I finally knew the reason why I wasn't getting pregnant! She put me on Metformin and a few months later we started to see results. I cut sugar and "white" carbs from my diet. I lost 15 pounds and was able to ovulate. I got pregnant exactly a year later through IVF. Our dream baby was born March 31, 2005. Here is Noah Roman......
- Ivette
---
Stephanie
I have never had a normal cycle since the time I got my first period but I didn't know why so when my husband and I started trying to conceive in Dec 2002 we just kind of left it to fate. We conceived in April 2003 and miscarried at 6 weeks. My doctor looked at my history of not ovulating on my own and put me on clomid to see if that would help. I conceived again in July and made it to 10 wks before miscarrying again. After the second miscarriage I switched doctors and she thought I might have PCOS but wasn't sure. She continued to have me try clomid and I conceived yet again and miscarried a third time at 6 weeks. After the 3rd m/c they considered it a pattern of losses so I started to see a specialist who officially diagnosed me with PCOS and insulin resistence. Right away he put me on 500mg of Metformin 3x a day and started clomid again. I have conceived yet again and am about 7 weeks along still taking the Metformin and now have started Progesterone shots. We saw the heartbeat for the first time out of all the pregnancies yesterday and everything looks great. Hoping to make it further with this one. Wish us luck!
- Stephanie
Editor's Note: Insulin resistance disturbs hormone balance and may diminish egg quality, thus contributing to increased probability of miscarriage. We certainly hope that Stephanie has better luck this time around. However three miscarriages indicates underlying fundamental problems that cannot be fully addressed by metformin and Clomid.
---
Lisa
Here's my story.
Since the age of 13, I had had irregular periods. Maybe one every 4 or 6 months. My parents were unconcerned about it, but I've always known I had a hormonal imbalance. I also had excessive male pattern hair growth, which I unknowingly took care of by shaving. I was a popular girl in HS - a cheerleader, an honor roll student. But I always struggled losing weight and I always felt different.
At age 20 I became pregnant. I had not had a period in a while before I conceived, so I was rather confused. I gained an excessive amount of weight during my pregnancy (100lbs), but no one said anything to me. I had a healthy baby boy. Then, 3 years later, I conceived AGAIN after not having a period for a long time. We were shocked that I was pregnant - but I gave birth to a healthy baby girl.
Now we are trying for our third child and have been TTC for over a year. I was recently diagnosed w/ PCOS. No surprise---Ive known Ive had it for years. I am not savvy on the meds that they want to put me on, so I am going to try fertility supplements, herbs, and a healthy diet to see where I get. I have not had a period again since I've been off the progesterone treatments, but will continue to take the natural route. PCOS is a lifelong problem, and I'd rather try a natural treatment than a chemical one.
- Lisa
Editor's Note: You may find vitex helpful.
---
Annie
Some good, Some bad...
Well, I was diagnosed 3 years ago, when I was 19... I was not planning for children at the time and my Doctor told me that when I wanted to conceive, I would have to see a specialist...Ok, I was upset yet I felt some relief in why my periods were so irregular. (I had always thought I was pregnant when I'd miss one.) So Sean and I stopped preventing pregnancy (stopped using condoms) and just lived on like I didn't have to worry about getting pregnant.
Less than 6 months later, in January, I turned 20 and I was pregnant. My beautiful little Miracle, Nadiya Alexandra, is 19 months. It was so awesome being pregnant and now being a mom... I always asked God why he would deny me of the best thing I could ever be, a mom, and he truly answered my prayers (kinda rough timing, but he it planned it to be this way).
But now, the bad news, I am 22 and I am obese, losing hair (very slowly) and I have a very hairy face (blonde, thank goodness). I am moody, depressed alot and I just can't take being so fat and nasty! I need help. I am trying to find a better doctor, I would love to know how my sugar is but I never go and get it done... I am too lazy to fast for the test... isn't it sad!! Well, just wanted to share my little story, just so you know that anything is possible! Any advice, I will listen. Thanks.
- Annie
Editor's Note: Annie, depression is a common companion to PCOS. It's easy to feel sorry for yourself. But wallowing in self-pity doesn't take you anywhere but down. If you can't think of yourself right now, think of your family. Little Nadiya needs you to be a healthy and happy mother.
The key is to accept your feelings (whatever they are), and focus your attention and energy on what needs to be done. Pick up the phone right this minute and make an appointment to see a physician. The best antidote to depression and self-loathing is ACTION. Any act will provide relief. Get off the sofa and walk around the block with your baby. Have a talk with your minister. Find a local PCOS support group in your area.
---
Rebecca
Hello. This has to be a god send to see this site. I am 22 years old and got married 6 months ago. I was diagnosed with PCOS nearly 2 years ago. It was a struggle just to get diagnosed though. I saw many doctors because of excessive weight gain and VERY irregular periods. I also had facial hair starting, and was all around tired. I went to so many doctors and finally went to a new OB who was my angel. She gave me hope and reassurance that it wasn't in my head. (All the other doctors just said I must have eaten more or exercised less to gain weight). So I went to the ENDO…and he started me on a pill called Spirolactin ( I think that's how it is spelled). I didn't do to well on the pill because my periods became regular (in the sense I had one at least every other month) but they still weren't normal.
My husband and I are wanting to conceive so I have been researching on the internet and found this site. It confirms everything I have heard. Because that same OB that I said found my problem, I saw her a week ago and told her of my disappointment with the pill I was on. She informed me of a newer pill called Metformin. She told me to set up another appointment with my endo, so I am going to see him on June 16th 2005. Hopefully he will change me to this new pill. It is relief to know that there are success stories out there. It is hard to think that, as a woman, you may not be able to naturally conceive children. Thank you all for your hope.
- Rebecca
---
Cynthia
I am 32 years old. I have had SO VERY MANY PCOS symptoms, since I was 15 or 16. I've had years of horrible cramps, pelvic pain, irregular periods (several months at a time with no period, then a heavy, painful cycle), huge weight fluctuations, inability to lose weight, acanthosis nigricans, skin tags, years of depression and anxiety over how I looked, or what I thought others thought I looked like. Some years, in my early 20's, I was perfectly normal in my outward appearance. I had lost 40lbs.that I had suddenly, mysteriously gained, in high school.
I felt so healthy and happy to be feeling that wonderful (because I felt lousy in my teen years, and had no idea that I WAS'T supposed to feel so badly all the time) .From the euphoric sensation I felt, I learned to listen to my body.
I had developed an intense regimen of healthy eating habits and daily exercise. I looked and felt the best I ever had, in my life. I truly felt that I had overcome whatever health problems I had had during my teen years.
THEN, at 23, I became unexpectedly pregnant and married. I had horrible pains that none of the ER doc or the OBGYN's could figure out. After a couple of weeks of an emotional and financial rollercoaster, trying to determine of if the baby was viable, or if my life was somehow in danger, I made the difficult decision to end the pregnancy. But, still had pains! For months! I found a new dr. who did an exploratory laproscopic surgery - he said he had found 3 "lesion like" spots on my ovaries, and had taken the spots off my ovaries and called it endometriosis!
But, all of the old symptoms that had racked my body back in my teenaged years started returning. I first noticed, after having had my now 7 yr. old daughter. I gained about 50 pound during the pregnancy and managed to lose about half of that within a few months - but then started having a TERRIBLE time losing any more weight. Then I stated GAINING weight again(a lot! like another 40 , 50, 60, lbs and have hovered up and down to no avail through 6 years of diets (Atkins, south beach, jenny craig, nutri system etc.) and diet wonders (pills, as seen on TV products, etc) As my weight increased over and over , I kept trying new doctors. I had developed hypertension by 29. My irregular cycles, and pain began again. A friend suggested I try a her GYN...anyone want to guess what I was diagnosed with? YEP - PCOS!!!
Last year I was feeling much better, had lost 30 lbs, but just as easily as I lost it, I AGAIN, gained it back - plus 10 more!! My cramps and pains are awful, again. My GYN put me on Lupron shots. I only did 5 of the 6 - hot flashes stink! I am remarried and hope to have another child - but achieving ovulation is a requirement.
I think I feel as physically miserable as I ever have - but I am hopeful and delighted to see this website!! I wish I had known about all of you, years ago. PCOS SUFFERERS NEED A VOICE! WE NEED TO EDUCATE OURSELVES, OUR MEDICAL COMMUNITIES, AND EACH OTHER! A diagnosis is just that: a diagnosis. Women need to know what questions to ask, how and what types of TREATMENTS are available (other than the pill). What types of diets are appropriate for us.
THIS WEBSITE AND ALL OF YOU INVOLVED WITH IT ARE THE START OF MY SUCCESS STORY.
- Cynthia
---
Julie
Here's my story. I started early. I got my period when I was 10 and had it for 3 weeks at a time. They were so hard that I would be sitting in class and just know that I went all the way through everything. There were so many times in the 6th grade where I would wait for my class to leave and then get up to find a pool of blood on my chair. It was horrible. My doctor put me on the pill for a few months at a time. I was on and off them for 9 years. I was told time and again "you'll just always be this way" I knew better.
I knew something was wrong and I knew there had to answers. I was a senior in high school and just about died. I started one of my famous periods and to just wouldn't stop. I went through a super tampon and an overnight pad in 30 minutes. You read correctly, 30 min. My parents took me in and my doctor just about died. He said I needed to be admitted immediately I had no blood in my system practically. He then proceeded to call my obgyn and inform her of the situation. I was admitted and given drugs to stop the bleeding...it didn't so I had an emergency DNC. I finally went home and it didn't happen again, but I have a cousin who have suffered from that trauma 2 or 3 times. I truly believe this a hereditary. See her grandparents and mine are brothers and sisters who married. My grandfather and her grandmother are brother and sister and so on.
Anyway, I married my husband when I was just shy of 21 and he's been through everything from the DNC to present. Six months into our marriage I was finally diagnosed. I had finally found the person who would lead me to better days ahead. My Aunt is a nurse and the woman researches like mad. Anyway she directed my to the University of Chicago and from there life got better.
I was put on Glucophage and that help in conjunction to seeing a Naturopathic certified Dietitian here where I live. I know that my 4 year old wouldn't be here if it hadn't been for her. I was doing great I lost around 30 lbs and then surprise...I didn't get one period. No biggie, I thought. I miss them all the time. It never dawned on me that I could be pregnant. Another month went by and I thought I had a bladder infection. I bought pregnancy tests all the time because I wasn't supposed to take the glucophage while I was pregnant. It came back positive!!
I didn't know what to do. I called everyone. Alexandra was born two days after her scheduled date. Healthy and the doctor swears she was crying before she even got out. He also said he'd never in his life seen such a clean baby. She came out and they hardly had to clean her off at all. She was so pink and perfect. I also suffer from a rare blood type which is hereditary. So, she truly is a miracle. This I know is all thanks to nutrition and my nutritionist (God rest her soul).
I no longer have her here to help me and so I am again suffering, but I am working through it. I have all the stuff she had me on when I got pregnant with Alex so I just have to do it.
To all those who haven't tried it, nutrition specialist are a God send. Find someone who believes in what they are doing and someone who has lots of certification.
I am going to try the Arbonne cream as well as there supplements and weight loss program. I am getting rid of all the junk I have and using the all natural things. I know how it changed my life and so maybe I can help you too. I am know saving to have laser treatment done for my hirsutism.
Don't ever give up on your belief and trust your instincts. Find an Endocrinologist who specializes in PCOS -- they are wonderful and so knowledgeable. I see an endocrinologist in Madison, WI who deals with it and infertility. That's who you should look to for the medical part of your syndrome. Then find yourself a naturopathic physician or dietitian. They can help with the weight, the depression, the everyday life stuff. They are wonderful and I know she saved my life. - Julie
---
For additional groups of stories, go to
---
If you have a success story to share, please let us know! We're especially interested in stories of women who have successfully used diet, exercise, natural therapies, or dietary supplements to reduce PCOS-related problems.
(If you also have any photos that you think might inspire other women, let us know if you would like to share them. Examples might be your new baby, or "before" and "after" pictures of you after losing some weight).
If you have a success story to share, please let us know! We're especially interested in stories of women who have successfully used diet, exercise, natural therapies, or dietary supplements to reduce PCOS-related problems.
(If you also have any photos that you think might inspire other women, let us know if you would like to share them. Examples might be your new baby, or "before" and "after" pictures of you after losing some weight).
Click here to submit your story!
PCOS Health Review
This free newsletter gives you original and immediately usable information to help you deal with PCOS.
Get the latest research, tips for improving your health, answers to questions, success stories, and more!
Your e-mail address is totally secure. We will never misuse your information.
Enter Your Email Above to Subscribe Today
and Get Your Questions Answered in this Free Special Report!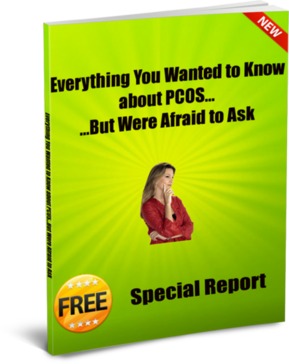 Click here to see what other women say about this newsletter