PCOS Review Newsletter #44
A free health newsletter for women with polycystic ovary syndrome or polycystic ovaries.
Issue #044 July 2, 2007 Bill Slater, Research Associate
---
2) Fibroids Associated with PCOS
3) Liver Disease More Prevalent than Previously Thought
---
1) Jennifer's Small Victory
We received a heartwarming message from Jennifer, who is 29 years old and hasn't had a normal cycle since the 8th grade. She describes a harrowing tale of ovarian cysts, chronic pain, intense hot flashes, multiple medications, surgery and various assisted reproduction techniques. She saw every specialist and spent lots of money…all to no avail.
Her "small victory" is that, for the first time in many years, she had started her period without the aid of drugs. She did it by modifying her lifestyle habits.
We think you will benefit by reading Jennifer's story.


---
2) Fibroids Associated with PCOS
A large study of African-American women indicates that those with PCOS are 65% more likely to suffer from fibroids. We haven't seen studies of other women, but it's likely that women with polycystic ovary syndrome generally tend to have a greater incidence of fibroids than women who do not have PCOS.
Uterine fibroids are the most common non-cancerous tumors in women of childbearing age. Fibroids are made of muscle cells and other tissues that grow in and around the wall of the uterus, or womb.
The risk factors for fibroids appear to be:
Fibroids tend to grow in women of childbearing age.
African American women are more likely to get them than women of other racial groups.
African American women tend to get fibroids at a younger age than do other
women.
Women who are overweight or obese have a slightly higher risk. Women who have given birth appear to be at a lower risk for fibroids.
Uterine fibroids do not always cause symptoms. But if you have symptoms, they may include:
Heavy or painful periods or bleeding between periods
Feeling "full" in the lower abdomen
Urinating often
Pain during sex
Lower back pain
Reproductive problems (infertility, multiple miscarriages or early labor)
Conventional treatment for uterine fibroids includes surgery or medications that can slow their growth.
The cause of fibroids is "unknown". However, there is some evidence that an improvement in the quality of your diet will help to prevent fibroids. For example, a study conducted at the Istituto di Ricerche Farmacologiche Mario Negri in Italy showed that women who ate the most ham and beef had the highest incidence of uterine growths. In contrast, those who consumed more green vegetables, fruit and fish had fewer growths.
Many of the basic principles in our PCOS diet book apply if you have fibroids or want to prevent fibroids from forming.

Sources:
Wise LA et al, Polycystic ovary syndrome and risk of uterine leiomyomata, Fertil Steril. 2007 May;87(5):1108-15
Chiaffarino F, et al, Diet and uterine myomas, Obstet Gynecol. 1999 Sep;94(3):395-8


---
3) Liver Disease More Prevalent than Previously Thought
Back in September 2006, we raised the important issue of liver disease and polycystic ovary syndrome.
We said there appears to be a strong association between insulin resistance, PCOS and certain liver conditions. One of these condition is called "nonalcoholic fatty liver disease" or NAFLD. A more serious condition is called "nonalcoholic steatohepatitis" or NASH.
We reported on a study that said 15% of women with PCOS have one of these liver diseases.
Now a more recent study indicates the problem is much worse than previously thought. A study at Cornell University has shown that 55% of PCOS women have NAFLD. Fatty liver disease is not restricted to overweight women. In this study, nearly 40% of the women with NAFLD were lean.
Why are we telling you this?
About one of every two women with polycystic ovarian syndrome appears to have fatty liver disease. That's an astounding number! We're willing to bet that your doctor has not assessed your liver function to see if you have fatty liver disease. He or she has probably never even mentioned your liver.
You must have a healthy liver if you want to live a healthy life. On the other hand, it is impossible to be healthy if your liver is sick.
Here's the bottom line: Polycystic ovary syndrome is not merely a disorder of the ovaries. In our view, it is a body-wide, systemic disorder. You need to look at your body as a whole. Your doctor may think birth control pills will do wonders to replace your ovarian function, but they do nothing to help your liver.
Your liver is a primary organ for metabolizing and managing hormones. If you have PCOS, you need good liver function to help keep your hormones in balance.
OK, so what should you do to help your liver and prevent fatty liver disease?
There are lots of things you can do. A few are listed below.
1) Start by improving the quality and composition of your diet. If you're not sure what this means, read our diet book. Avoid junk food like the plague. Keep in mind that your liver has to work hard to get rid of any undesirable items in your food. Our book has a list of foods you should not eat.
2) Increase exercise.
3) Consider supplements such as fish oil, which has been shown to improve fatty liver disease. For details, see our September newsletter. Regardless of whether your have liver disease or not, fish oil is beneficial.

Sources:
Gambarin-Gelwan M et al, Prevalence of nonalcoholic fatty liver disease in women with polycystic ovary syndrome, Clin Gastroenterol Hepatol. 2007 Apr;5(4):496-501


---
Thought for Today: "What you do speaks so loud that I cannot hear what you say.." -- Ralph Waldo Emerson
<!content_extra_1>
PCOS Health Review
This free newsletter gives you original and immediately usable information to help you deal with PCOS.
Get the latest research, tips for improving your health, answers to questions, success stories, and more!
Your e-mail address is totally secure. We will never misuse your information.
Click the Link Above to Subscribe Today
and Get Your Questions Answered in this Free Special Report!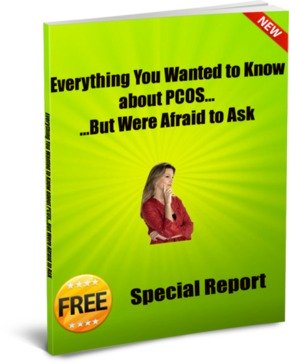 Click here to see what other women say about this newsletter