!Viewport Code> <! End Viewport Code>
16 years with PCOS and 3 children, living upbeat everyday!
by Denise
(Roger, AR)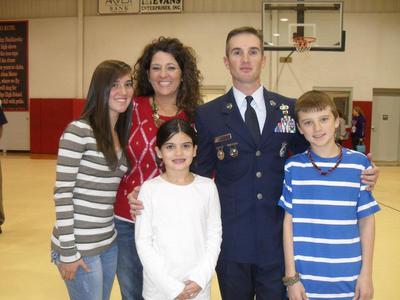 Veterans Day celebration
I was diagnosed with PCOS in 1998 after struggling with getting pregnant for the second time. Sixteen years ago the general knowledge of PCOS was nonexistent, not only by the general public but also by doctors.

It took five visits with five different doctors to find a physician that understood PCOS.

I self-diagnosed my PCOS after reading an article in a women's magazine and then quickly went to an endocrinologist. My signs were excess facial hair and lack of monthly menstrual cycles since I was a teen. I struggled with educating myself because there was very little information out there.

Sixteen years later and three fantastic children (18, 14 & 12 years), I try to keep educated on the vastly increasing information and guidelines of PCOS.

Educating yourself is the best way to stay on top of this disease. I know diet is extremely important and even though I am fortunate not to be too overweight, I struggle with this daily. I have found keeping a low carb diet works best for me. I have learned to enjoy exercise. When I am at my optimal weight, my menstrual cycles are regular and my body and mind are sound. I also have laser hair removal for my chin annually. I think that anyone diagnosed with PCOS should take it seriously because of all the long-term effects it has on the body.

Fertility
Weight Control
Hair Loss
Stress
Unwanted Hair
Acne...and more!
FREE PCOS Report
and Newsletter
Your email is safe with us. We respect your privacy, and you may unsubscribe at any time.

Jul 02, 17 12:11 AM

Your blood type may tell you what foods you should avoid if you have PCOS, inflammation or immune or other health problems.

Jun 15, 17 02:21 PM

PCOS, marijuana and fatty foods don't mix. Over-stimulation of the endocannabinoid signaling system in your body can increase insulin resistance and worsen your symptoms.

Jun 03, 17 11:28 PM

You need a natural PCOS diet plan to offset your genetic tendencies to gain weight, be infertile, and have acne, hair loss and hirsutism.