Do Avocadoes Help with Your Weight?
People who eat avocados weigh seven pounds less than non-avocado eaters, according to data from the National Health and Nutrition Examination Survey between 2001 and 2008.
The avocado eaters also had smaller waistlines and weight-to-height ratio.
How could this be? Aren't avocadoes loaded with undesirable fat calories?
It turns out the avocado eaters also had better diets (more fruit and veggies, more fiber, and less added sugars) than people who didn't eat avocadoes. So it's not the avocadoes by themselves that caused the slimmer waistlines. It appears that people who eat avocadoes are generally more health-conscious.
A good way to keep PCOS problems under control is not to simply count calories, but to be very selective in the type of calories you take on board. This means eating a diet mostly of whole, unprocessed foods will give you more latitude for enjoyable fatty foods such as avocadoes.
While avocadoes have a lot of calories, they also offer some healthy benefits. They contain soluble fiber, which tends to make you feel fuller, which helps with appetite control. Soluble fiber helps maintain healthy blood sugar levels and promotes insulin sensitivity.
The fat in avocadoes is 60% monounsaturated. Research suggests that dietary monounsaturated fats may help lower "bad" LDL-cholesterol and increase "good" HDL-cholesterol, which reduces the risk of cardiovascular disease.
Sliced or mashed avocado are an excellent garnish for almost any dish.
Raw nuts and seeds are other fatty foods that can increase your health. Almonds and walnuts are two examples.
Oily fish such as salmon, sardines, mackerel, herring or trout contain essential omega-3 fats that may help you control inflammation and relieve symptoms of PCOS.
And what about processed oils and fats? Olive oil, coconut oil and occasional organic butter are better choices than margarine and most vegetable oils.
A very recent study from the USA National Institutes of Health has shown that men consuming a "heart healthy" diet that replaces saturated fat with polyunsaturated oils (like margarine and vegetable oil) suffered a 70% increase in their rate of death from cardiovascular disease.
Throw your margarine and cheap supermarket vegetable oils into the trash. Bring on the avocadoes, salmon and walnuts. Try to get your fats and oils mostly from whole foods.
By the way, a low-fat, high-carb diet is not recommended. This type of diet does not work for women with PCOS who have insulin resistance. If you're going to go high on the carbs, they should be mostly vegetables.
For more information about fats and oils, consult The Natural Diet Solution for PCOS and Infertility ebook.
Sources:
Fulgoni VL 3rd et al, Avocado consumption is associated with better diet quality and nutrient intake, and lower metabolic syndrome risk in US adults: results from the National Health and Nutrition Examination Survey (NHANES) 2001-2008. Nutr J. 2013;12:1.
Ramsden CE, et al. Use of dietary linoleic acid for secondary prevention of coronary heart disease and death: evaluation of recovered data from the Sydney Diet Heart Study and updated meta-analysis BMJ 2013;346:e8707
See Related PCOS Diet Articles
What's a Good Diet?
Why You Should Avoid Convenience Foods
Which Carbs Are Best?
The Dangers of GMO Foods
GMO Foods Article Stirs Controversy
The Benefits of Juicing
The Eat Right for Your Type Diet
You Need Antioxidants
What Do Pot and Fatty Foods Have in Common?
Like Bread? Than Have Berries Too!
Hidden Threat to Ovarian Health Found in Foods
PCOS Health Review
This free newsletter gives you original and immediately usable information to help you deal with PCOS.
Get the latest research, tips for improving your health, answers to questions, success stories, and more!
Your e-mail address is totally secure. We will never misuse your information.
Enter Your Email Above to Subscribe Today
and Get Your Questions Answered in this Free Special Report!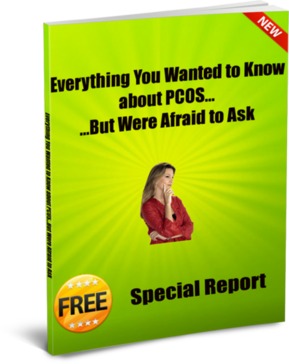 Click here to see what other women say about this newsletter