Like Bread? Than Have Berries Too. They're Good for PCOS
In the PCOS diet ebook, we strongly recommend that you not eat bread (especially white bread) or bakery goods.
One of the reasons is that is a refined carbohydrate like bread causes a substantial increase in your blood sugar, which in turn causes an excessive increase in your insulin level. If your insulin remains too high because of repeated consumption of refined carbs, you tend to develop "insulin resistance", where cells don't properly respond to insulin signals.
Once you develop insulin resistance, you have fallen into the trap of endless PCOS symptoms.
But let's suppose you can't bear to give up your bread and white rice. Is there anything you can do to minimize the damage?
One thing you can do is to have berries with your bread, according to a new study from the University of Eastern Finland.
In this study, women consumed either white bread or rye bread, with various whole-berry purees added. Some purees were individual berries, while another was a mix of berries. They also ate bread with no berries. The researchers used both white bread and rye bread because the insulin response is worse with white bread, compared to rye.
So what happened? They found that strawberries, bilberries, lingonberries, and chokeberries consumed with white bread reduced the rise in insulin levels. Also, a mix of berries reduced the rise in insulin with either white or rye bread.
Only strawberries and the berry mixture reduced the rise in blood sugar.
And here's another bonus from eating berries.
The University of East Anglia in the UK has reported that women consuming blueberries and strawberries had a lower risk of heart attack.
And by the way, berries are good antioxidants. Women who have PCOS generally have a need for increased antioxidant intake from their diet.
So why not keep on had a good supply of fresh or frozen berries? Any kind of berry appears to be beneficial, so have a mix of berries to make it interesting.
See Related PCOS Diet Articles
What's a Good Diet?
Why You Should Avoid Convenience Foods
Which Carbs Are Best?
The Dangers of GMO Foods
GMO Foods Article Stirs Controversy
The Benefits of Juicing
The Eat Right for Your Type Diet
You Need Antioxidants
What Do Pot and Fatty Foods Have in Common?
Hidden Threat to Ovarian Health Found in Foods
Is Food-Based Lipotoxicity a Cause of Polycystic Syndrome?
Sources:
Törrönen R et al, Berries Reduce Postprandial Insulin Responses to Wheat and Rye Breads in Healthy Women. J Nutr. 2013 Jan 30. [Epub ahead of print]
Cassidy A et al, High anthocyanin intake is associated with a reduced risk of myocardial infarction in young and middle-aged women. Circulation. 2013 Jan 15;127(2):188-96.
PCOS Health Review
This free newsletter gives you original and immediately usable information to help you deal with PCOS.
Get the latest research, tips for improving your health, answers to questions, success stories, and more!
Your e-mail address is totally secure. We will never misuse your information.
Enter Your Email Above to Subscribe Today
and Get Your Questions Answered in this Free Special Report!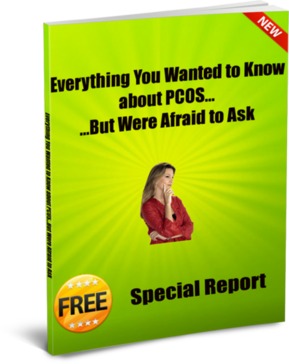 Click here to see what other women say about this newsletter