PCOS Review Newsletter #72
2) Wrong Diet Linked to Ovarian, Breast Cancer?
---
2) Wrong Diet Linked to Ovarian, Breast Cancer?
In our last issue, we discussed how a low glycemic load diet could reduce acne. In this issue, we'll talk about how a low glycemic diet, such as our PCOS diet, may reduce your risk of future ovarian cancer or breast cancer.
First, let's take ovarian cancer. We found an interesting study from Montclair State University. The study of 49,613 Canadian women showed that a high "glycemic load" diet as associated with a 72% increase in risk for developing ovarian cancer. That's quite an increase in risk! However, there was no increased risk associated with "glycemic index" to total consumption of carbohydrates.
So what does this mean?
The glycemic index and glycemic load are calculated numbers that show to what extent your blood sugar is affected by the foods you eat. But you need to be very clear on the distinction between the glycemic index and glycemic load, which we discuss in Chapter 4.2 of our low glycemic load and low glycemic index diet book. In the case of ovarian cancer, it appears the glycemic load is a bigger concern than the glycemic index, although both are important.
Ovarian cancer is difficult to diagnose in its early stages. So your best course of action is prevention. An excellent way to reduce ovarian cancer risk is to consume a low glycemic load diet.
Second, what about breast cancer?
Not all studies agree about the possible linkage between breast cancer and the glycemic load, glycemic index or total carbs consumed. However, on balance, it appears that what you eat will influence your risk of breast cancer in the future.
Some studies suggest that a high glycemic load is a risk for breast cancer only if you are sedentary, overweight or have a large waist circumference.
But a couple of recent studies raise our concern.
The first is a study from Vanderbilt University, which studied 74,942 Chinese women. In this study which spanned 7.35 years, a higher intake of carbohydrates and a high glycemic load was linked to an increased risk of breast cancer in premenopausal women or women under the age of 50.
The second is an Italian study of 5,157 women that analyzed the relation of eating sweets to breast cancer. The highest rates of breast cancer occurred among those who had the highest intake of desserts (including biscuits, brioches, cakes, puffs and ice-cream) and sugars (including sugar, honey, jam, and marmalade). The researchers concluded: "We found a direct association between breast cancer risk and consumption of sweet foods with high glycemic index and load."
The underlying problem may be that the high glycemic load triggers a spike in blood sugar levels, which in turn causes an unhealthy increase in insulin and insulin growth factors, which then in turn encourage cancer cells to grow.
Our recommendation: Follow a diet similar to the one found in our book. If you don't do that, at least learn more about the glycemic index and glycemic load.
Sources:
Silvera SA et al, Glycaemic index, glycaemic load and ovarian cancer risk: a prospective cohort study, Public Health Nutr. 2007 Oct;10(10):1076-81
Wen W et al, Dietary carbohydrates, fiber, and breast cancer risk in Chinese women, Am J Clin Nutr. 2008 Dec 3. [Epub ahead of print]
Tivani A et al, Consumption of sweet foods and breast cancer risk in Italy, Ann Oncol. 2006 Feb;17(2):341-5
---
3) Start a Personal Journal
Do you keep a personal journal?
There's something about keeping a journal or writing private thoughts in a notebook that activates our inner wisdom. While your entries might seem like random thoughts or ideas, often they contain vital information about who you are and what you've come here to do.
Since we're about to embark on a New Year, why not jot down some thoughts? Taking time out of your busy life to reflect on who you are and what you want is a key way to influence the direction of your life.
Here are some ideas to get you started.
1. Finish the following sentence stems with several answers for each one:
I am…
I will not…
I would like…
I will…
I love…
I hate…
2. What advice would you give yourself at this time in your life?
3. What three major choices brought you to this point in your life?
4. Looking back, what three things do you wish you had tried?
5. List three changes you'll need to make to live a more meaningful life.
6. List 3 positive qualities that you feel proud of possessing. List 3 qualities that you'd like to develop.
7. If you could try five new jobs over the next year what would they be?
Have a fabulous 2009!!
---
Thought for Today: "Happiness is in the heart, not in the circumstances." -- Anonymous
PCOS Health Review
This free newsletter gives you original and immediately usable information to help you deal with PCOS.
Get the latest research, tips for improving your health, answers to questions, success stories, and more!
Your e-mail address is totally secure. We will never misuse your information.
Enter Your Email Above to Subscribe Today
and Get Your Questions Answered in this Free Special Report!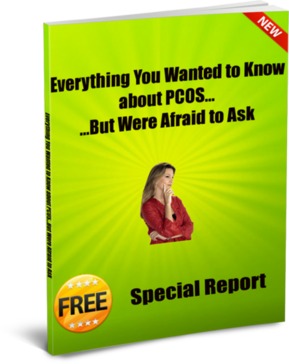 Click here to see what other women say about this newsletter