Nuts Dramatically Reduce the Risk of Type 2 Diabetes
It's well known that women who have PCOS have a much higher risk of developing diabetes and heart disease later in life. Could eating nuts be helpful?
Nuts are high in unsaturated fat, magnesium, fiber, and other nutrients that may improve blood sugar and insulin balance.
In this study (the Nurses' Health Study), 83,818 women aged 34-59 were questioned in 1980 about their dietary habits, including how often and what quantity of nuts they ate. Eighteen years later, the study compared the incidence of diabetes to nut consumption.
The researchers discovered there was an inverse association of nut and peanut butter consumption with diabetes, regardless of age, weight, family history of diabetes, exercise, total calories consumed, or other dietary factors. In other words, eating nuts reduced the risk of developing diabetes. For example, the women who consumed a 1 oz. serving of nuts five times a week had a 27% reduced probability of developing diabetes vs. women who never ate nuts.
The study also showed that there was no significant change in weight and no increase in heart disease in those women who consumed the most nuts.
The authors of this article suggest that women eat nuts as a replacement for refined grain products and red or processed meats.
Women with polycystic ovarian syndrome (PCOS) have a much higher risk of developing diabetes. Therefore, you need to do all you can to reduce your risk of diabetes. Eating nuts on a regular basis will help you in this effort.
However, not all nuts are the same. Nuts and seeds are very high in polyunsaturated oils, which can easily become oxidized and turned into free radical molecules that cause cell damage. Oxidation occurs when nuts are subjected to heat, light and oxygen during roasting or processing. Raw, whole, fresh nuts are better for you than roasted nuts or nut butters.
We also agree with the authors of the study that nuts are a better choice than refined grain products.
Source: Nut and peanut butter consumption and risk of type 2 diabetes in women, Jiang R, et al, JAMA. 2002, 288(20):2554-60.
---
PCOS Health Review
This free newsletter gives you original and immediately usable information to help you deal with PCOS.
Get the latest research, tips for improving your health, answers to questions, success stories, and more!
Your e-mail address is totally secure. We will never misuse your information.
Enter Your Email Above to Subscribe Today
and Get Your Questions Answered in this Free Special Report!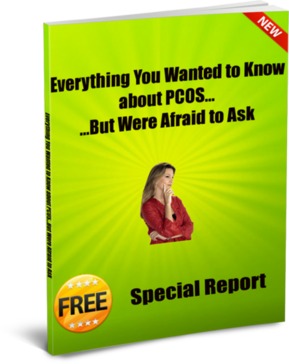 Click here to see what other women say about this newsletter