PCOS Review Newsletter #26
---
1) Relationship between insulin secretion, and thyroid and ovary function
2) Lifestyle changes as good as metformin for overweight PCOS women?
3) Quality Nutritional Supplements for PCOS
---
1) Relationship between insulin secretion, and thyroid and ovary function.
Women with PCOS typically do not have an isolated problem of dysfunctional ovaries. Dysfunction of the insulin system and thyroid are also commonly involved.
An interesting study just released from the Universita degli Studi di Roma in Italy demonstrates this important point.
The study investigated the relationship between polycystic ovary syndrome, hypothyroidism and insulin-resistance and how, by submitting patients to a specific therapy for any one of the three pathologies, the researchers were able to also obtain an improvement in the other associated pathologies.
Forty-five patients with polycystic ovary syndrome, hypothyroidism and insulin-resistance were divided into 3 groups. The 15 Group A patients followed a diet therapy. The 15 patients of Group B received hormonal therapy. The 15 Group C patients received replacement therapy with levothyroxine (thyroid hormone).
Over time, and regardless of the specific therapy, all groups experienced an improvement in thyroid hormone levels. Their ovarian symptoms improved, and their LH (luteinizing hormone) and testosterone levels went down, and progesterone increased. The glucose-insulin levels also improved.
This study suggests that there are several alternative ways to improve your PCOS symptoms and increase fertility. But why rely on just one therapy, such as birth control pills? Why not use diet as a powerful therapy (as explained in our PCOS diet book)? Or take thyroid-supporting supplements or medications if your thyroid is underactive? Or consider insulin-senitizing therapies if you have insulin resistance? If a single therapy can be effective, a combination therapy can be even more effective.
We recommend a comprehensive rather than a piecemeal approach to PCOS. Of course, a comprehensive treatment plan should be based on your unique health circumstances.
Source: Pallotti S et al, Relationship between insulin secretion, and thyroid and ovary function in patients suffering from polycystic ovary Minerva Endocrinol. 2005 Sep;30(3):193-7.
---
2) Lifestyle changes as good as metformin for overweight PCOS women?
Metformin does not improve weight loss or menstrual frequency in obese patients with PCOS, according to research from The General Infirmary in Leeds, England. However, weight loss alone through lifestyle changes improves menstrual frequency.
This was a randomized, placebo-controlled, double-blind study, which is the "gold standard" of studies. 143 obese women with PCOS and inadequate or no menstruation participated in the study. Metformin (850 mg) given twice daily was compared with placebo over 6 months. All women received the same advice from a dietitian.
Both the metformin and placebo groups showed significant improvements in menstrual frequency and weight loss. There were no significant differences between the groups.
There were no significant changes in insulin sensitivity or lipid profiles in either group. However, those who received metformin achieved some reduction in waist circumference and free androgen index.
This study demonstrates that complete reliance on drugs such as metformin is an incomplete approach to solving the problems of PCOS. As we've said many times, a healthy diet, exercise, stress management and wise lifestyle choices are the first things you should be doing to control PCOS and improve your odds of a future pregnancy.
Source: Tang T, et al, Combined lifestyle modification and metformin in obese patients with polycystic ovary syndrome. A randomized, placebo-controlled, double-blind multicentre study. Hum Reprod. 2005 Sep 30; [Epub ahead of print].
---
3) Quality Nutritional Supplements for PCOS
Many of you ask us what brand or type of supplements you should take. The type of supplements you need will vary according to your specific health issues. But in general, most PCOS women will benefit from carefully selected supplementation.
When you ask us about this brand or that brand, we usually tell you that we cannot recommend it. We don't recommend many supplements because we have no way to personally evaluate them. If we don't know what's really in them, we can't in good faith recommend them to you. The FDA does not regulate dietary supplements, nor are there any industry quality standards.
Our clinical experience indicates that some supplements work while others do not. The primary reason is that some supplements are not formulated properly, or what is actually in the bottle is not what is shown on the label.
Before you blindly purchase any supplement, please visit our web page: Buying Nutritional Supplements - What You Need to Know.
You can also visit our PCOS Supplements page to learn more about dietary supplements that may be beneficial for polycystic ovary syndrome and its related symptoms.
---
PCOS Health Review
This free newsletter gives you original and immediately usable information to help you deal with PCOS.
Get the latest research, tips for improving your health, answers to questions, success stories, and more!
Your e-mail address is totally secure. We will never misuse your information.
Enter Your Email Above to Subscribe Today
and Get Your Questions Answered in this Free Special Report!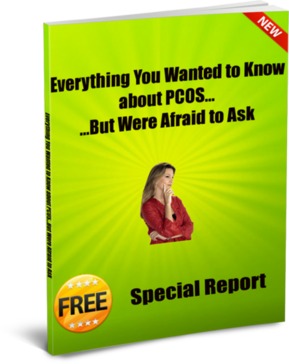 Click here to see what other women say about this newsletter