50 Simple Ways to




Control PCOS with Diet



 Essential but Little-Known Tips
 from Medical Research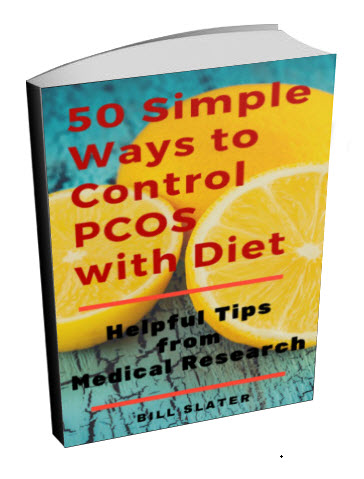 There's hardly anything more confusing than knowing what we should eat and what we should avoid in order to gain control over PCOS.  Here's an answer to this dilemma.

This e-book reveals 50 specific ways you can modify your dietary habits to more effectively relieve symptoms of PCOS, according to the medical research.

But...do you really need this e-book?

Take 30 seconds on this short true-false quiz to find out.

How many of the statements below are true?
Women with PCOS eat less refined carbs and more veggies than others because they have to watch their weight and blood sugar.
All potatoes are bad for you because they are too starchy.
People who eat avocados are heavier than those who don't.
Food has no effect on the structure and function of the brain.
It doesn't matter what time of day you consume dietary calories, so long as you don't overdo it.
Spearmint tea is pleasant but does nothing to control unwanted facial hair growth.
How you blend a smoothie has no effect on your weight.
Counting calories is still the best way to control PCOS.
Soybean oil is the healthiest oil for salad dressing.
A red dinner plate reduces the amount of food you eat.
Green tea is a starch blocker.
Splenda is the healthiest sweetener because it is lo-cal and has been approved by the F.D.A.
Finished with the quiz?   Answer:  Questions 10 and 11 are true.  All the rest are false!

You'll definitely benefit from this e-book if you got most of the questions wrong.  

You may have some misunderstandings or are unsure about what your diet should consist of.  Your present diet may be prolonging your symptoms and stopping you from escaping the frustrations of PCOS.  You're not yet taking full advantage of what a healthier diet has to offer.  This e-book will guide you to a better outcome.

---
What's inside the "50 Simple Ways to Control PCOS with Diet" e-book?
Here's a small sample of what you'll discover in this 70 page e-book:
Is a dietary crisis brewing for women with PCOS?
What do pot and fatty foods have in common?
Do avocadoes help you lose weight?
The #1 thing you can do to control PCOS.
What is food doing to your brain…and vice versa?
10 tips for healthier eating in restaurants.
Like smoothies?  Add this free thing to drastically cut calories.
Are "diet" salad dressings a bad idea?
PCOS weight gain…is soybean oil the culprit?
3 unusual ways to cut calories.
This beverage is a starch blocker.
Eggs: Are they good or bad?
The surprising benefits of brown rice.
This fruit may increase lifespan.
Can potatoes reduce PCOS?
This herbal tea helps balance your hormones.
Early menstruation tied to sweetener.
Is a high protein diet best for PCOS?
7 foods you must avoid.
Essential tips for vegetarians.
2 easy, quick tricks to curb your appetite.
The Darth Vader of chemicals in your food.
What is soy formula doing to your baby?
And much more!
Medical Research Says Better Diet
Is Your #1 Priority
Medical research has proven that diet is the #1 most critical success factor for managing and controlling PCOS…more critical than drugs or anything else.  

So if you can significantly improve your diet, unwanted hair, acne, infertility, obesity, hair loss, mood problems and ovarian cysts will diminish.  You can reduce your waist size and get closer to a normal period.  This e-book offers you 50 ways to move towards these health goals.
 All the best,

Bill Slater, Co-Author of "The Natural Diet Solution for PCOS and Infertility".

P.S.  Each of the 50 chapters in this e-book will have something of value for you.  100% guaranteed. 

---