PCOS Bookstore
The Natural Diet Solution for PCOS and Infertility
PCOS: A Woman's Guide to Dealing with Polycystic Ovary Syndrome
Taking Charge of Your Fertility
Women's Encyclopedia of Natural Medicine
Inconceivable: A Woman's Triumph Over Despair and Statistics
---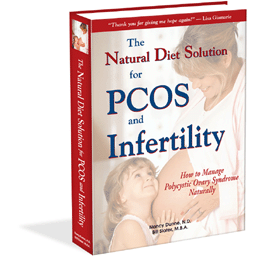 <!OUR BOOK>
by Dr. Nancy Dunne and Bill Slater
528 page e-book
E-book price: $19.95
This e-book is by far the most comprehensive diet e-book available for women who have polycystic ovary syndrome or any of its symptoms, including infertility, obesity, acne, hirsutism, hair loss, depression, insulin resistance, or polycystic ovaries.
The authors provide dietary guidelines for every component of your diet: meat, seafood, poultry, eggs, dairy, legumes & soy, grains, vegetables, fruits, sprouts, nuts and seeds, and fats and oils. You will learn which foods help you to reduce symptoms, and which ones will make them worse. The authors also provide a simple, healthy daily meal plans for a month, as well as 150 recipes.
---
by Angela Boss & Evelina Sterling, 156 pages
List price: $14.95
Your price: $10.47
You save: $4.48
This is a very good basic introduction to polycystic ovary syndrome. It is written by two women who have PCOS. We recommend this book if you are unfamiliar with PCOS and want to get a good overview of the condition and what to do about it.
The virtue of this book is that it has no medical jargon and is a quick read. You should be able to get a good idea of what PCOS is all about within an hour or two. It has a good chapter on Getting Pregnant.
This book is easier to read than Colette Harris's or Dr. Samuel Thatcher's books (see below).
---

PCOS:
The Hidden Epidemic
by Samuel Thatcher, M.D., Ph.D., 494 pages
List price: $24.95
Your price: $17.47
You save: $7.48
Of all the consumer books currently on the market, this book has the most complete discussion of the conventional medical treatment of polycystic ovary syndrome. For this reason alone, you should have this book. It will definitely help you to understand the reasoning behind your physician's treatment recommendations. After reading this book, you will be able to have a two-way conversation with your doctor instead of just nodding your head as he or she says things you don't really understand.
Dr. Thatcher has done a good job in explaining the complexities of PCOS and the conventional treatment options for PCOS. But be warned that this book has a lot of medical terminology and information that will not be familiar to you. So give yourself plenty of time to read it.
---

PCOS:
A Woman's Guide to Dealing with Polycystic Ovary Syndrome
by Colette Harris, 211 pages
List price: $16.00
Your price: $11.20
You save: $4.80
Colette Harris was moved to write this book after her own successful battle with PCOS. This book is an introductory discussion of PCOS. It has a more holistic perspective than other PCOS books. However, this book is lacking in important details.
The main reason to buy this book is that Harris outlines a 4-point management plan for PCOS: Detoxification, Improving What You Eat, Exercise, and Stress Management.
While we think this book is rather superficial, it contains fragments of valuable information not found in other PCOS books.
---

Taking Charge of Your Fertility:
The Definitive Guide to Natural Birth Control and Pregnancy Achievement
by Toni Weschler, M.P.H., 461 pages
List price: $23.95
Your price: $16.77
You save: $7.18
"How wonderful to know that control can be returned to where it belongs", said another reviewer of Weschler's detailed and easily-understood book about your reproductive life. We agree!
This comprehensive book explains how to practice the fertility awareness method (FAM). By using simple fertility signs, including peaks in morning body temperature and changes in cervical position and cervical mucus, you can determine when ovulation is occurring. FAM is a valuable tool for those who are trying to conceive.
Infertile women who used the FAM technique have reported to Ms. Weschler that by filling in the detailed charts in the book, they realized they were chronically miscarrying, even when their doctors told them they were not conceiving at all. The book explains how to chart body temperature so that it's easy to tell when a pregnancy has occurred - and when there's danger of miscarriage.
This must-have book answers most questions you would have about your reproductive life. It provides you with information and vocabulary that will help you to more effectively interact with your doctor. The book is also a valuable resource for teens.
---

by Tori Hudson, N.D., 358 pages
List price: $24.95
Your price: $17.47
You save: $7.48
Dr. Hudson's book is an exceptionally well-researched and well-written book covering the most common medical problems for women, how to prevent them and how to treat them the natural way. If you're tired of the side effects of chemical drugs, you'll find plenty of sound advice and alternative therapies backed up by scrupulous research. This is a great stand-alone volume on the subject but it also complements other books on women's medical conditions written from traditional medical viewpoints.
Women's Encyclopedia of Natural Medicine thoroughly covers the whole range of women's health concerns including menstrual difficulties, menopause, endometriosis, osteoporosis, fibroids, heart disease, and more. Dr. Hudson explores a wealth of complementary therapies-- including vitamin supplementation, herbs, diet and exercise-- and helps women decide when self-care is possible and when a conventional doctor should be consulted.
Although there is no chapter devoted exclusively to PCOS, much of the material in this book applies to women with PCOS. We know Dr. Hudson personally and can recommend this book without reservation. It is a "must have" for your personal health library.
---

Inconceivable:
A Woman's Triumph Over Despair and Statistics
by Julia Indichova, 208 pages
List price: $12.00
Your price: $9.60
You save: $2.40
"In a narrative filled with humor, heartache and hope, Julia Indichova fearlessly documents her seemingly impossible mission to conceive a child. Her pilgrimage takes her through the offices of the best that modern medicine has to offer, as well as through a maze of surprising alternatives. The point is less what methods she chooses but how she chooses them – by paying careful attention to her needs and responses, a skill that not only brings her a child but changes her approach to life. Ultimately what Julia discovers, and what Inconceivable teaches us, is that when we have faith, and honor our own truth rather than docilely placing ourselves in the hands of others, all the rules change. Whether we long to birth a child, a work of art, or a vital, fulfilling life, the journey begins with trusting our deepest wisdom: the expert within who always knows the next best step."
Ms. Indichova's tenacity and inner knowing changed her life as well as the size of her family. As a naturopathic physician I have witnessed many similar transformations. I'm certain that Indichova's wisdom to optimize her physical self with a nutrient-dense diet and sensible supplements was directly related to her happy outcome. This, along with attention to her energetic/spiritual self, were essential to the transformation that allowed her healthy baby to be born.
---

by Colette Harris and Theresa Cheung, 336 pages
List price: $18.95
Your price: $13.27
You save: $5.68
This book is a good effort but it appears that the authors assembled their information from other popular self-help authors and basic research. They are not writing from actual clinical experience or reporting on observed outcomes. Therefore, they tend to oversimplify complex circumstances and perpetuate some popular myths.
For instance, they discuss a type of dieting that requires you to eat grains and vegetables or meat and vegetables -- but to never combine meat and grains in the same meal. In two decades of practice I've seen many people who have used this approach and temporarily lost weight, because they were eating less as they tried to adjust to the new diet. Most eventually regained the weight that was lost. The main problem with dietary recommendations like this is that they have little therapeutic relevance to PCOS.
The authors are also lax in some of their recommendations. For example, they say it's OK to eat half of your grains as refined flour products. Do the authors understand that chromium and other vital nutrients are lost when grains are milled into flour? (Chromium is essential for control of insulin resistance). They say it's OK to consume canned fruit and vegetables, which have lost most of their micronutrients during processing and often contain added sugars.
I question how relevant this book is to the specific dietary needs of women with PCOS. It's worth a read, but take it with a grain of salt.